We always have a large number of second hand guns in stock, these comes through customers who trade in their old guns when buying new ones. The guns on display in the blocket.se-store are just a few compared to what we have in store. Welcome to contact us if there is something special you are searching for.
Check out our Blocket.se-store!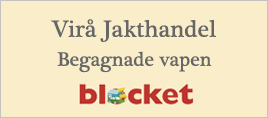 We are continuesly working with safetyprecautions to prohibit accidents. However if anything were to happen we have multipel defibrillators and a stretcher. First aid kits are available on all shootingranges, the hunting store, the restaurant and in our company veichles. In the premesis and lakeside cottages we have fire extinguishers and blankets. As the cottages are situated in the outskirts of the estate we have boards with instructions how to get help there.
All employees are regurlary trained in CPR with defibrillator.